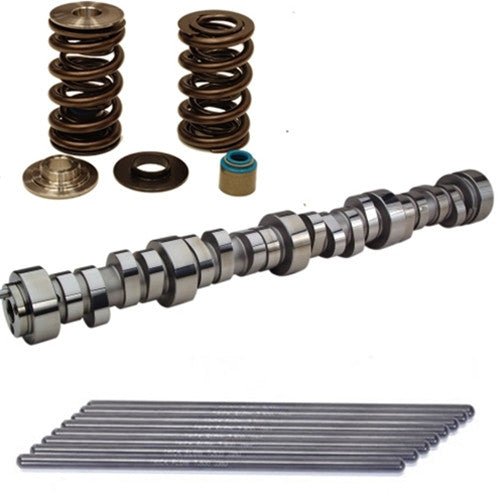 Texas Speed & Performace
Texas Speed & Performance Dual Spring Camshaft Packages for Cathedral Port Heads (LS1/2/6)
---
This Package Includes the Following Items:
Your Choice of Camshaft
Includes TSP .660" Dual Spring Kit w/ PAC Racing Springs, Titanium Retainers, Hardened Spring Seats, and New Valve Stem Seals
Texas Speed Hardened Chromoly Pushrods
This is the perfect upgrade package for customer looking for all the aftermarket parts needed to do a camshaft swap.  Typical gains will range from 30 to 65 rear-wheel horsepower from a TSP camshaft swap alone!

We do offer the optional adjustable pushrod length checker that allows you to verify the correct pushrod length needed for your setup.  We can give you a good idea of what is typically used with your engine, lifter brand, etc., but it can certainly vary from setup to setup.  You can vary up to .050" in pushrod length depending on which camshaft core the cam manufacturer uses!  This is NOT information that any camshaft manufacturer includes with their camshafts, so it is always best to verify the length you need to avoid any valvetrain issues.


Because we cannot stock every camshaft with every lobe separation angle, if you need parts quickly, we encourage you to call us to check availability of the camshaft you want. The LSA(s) we typically stock for each camshaft is listed next to each camshaft. Some camshafts will have to be custom ground and drop-shipped from the manufacturer directly to you!
*All items subject to sales tax
---
Share this Product
---
More from this collection