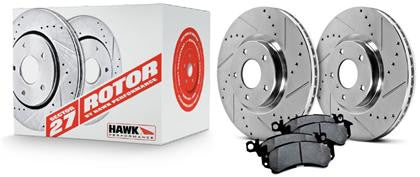 Hawk
Hawk Performance 10-14 Chevrolet Camaro SS Zl1 Brembo -Sector 27 Rotors w/ LTs Pads Kit -Rear
---
Hawk Brake System - Sector 27:
Hawk Performance, known worldwide for developing friction materials that dominate on the race track and for increasing brake performance on the street with advanced brake pad compounds is elevating the friction performance industry yet again with the introduction of the new Sector 27 high performance brake rotors. Hawk Performance products are on more than 70% of the cars racing in leading race series such as the SCCA and NASA. The race track is the testing ground. The testing and data taken from the track is then transformed into new products>
"The number 27 is legendary in motorsports and performance; dozens of the World's most famous race car drivers and race teams have raced 27. Here at Hawk we compare our products against the competition much like racetracks compare competitors. Our goal is to win each "sector". Following the development and testing of these new rotors, it was clear that their performance deserved a legendary name, Sector 27! Our passion for motorsports, improved performance and winning is evident in the Sector 27 Brake Rotors." stated Todd Romano, Managing Director for Hawk Performance.
Carrying the number of legends requires legendary performance, the technology and manufacturing of these rotors deliver that. The new Sector 27 Rotors are a drilled and slotted design; the beveled drilled holes provide superior cooling under the most extreme conditions. The slots are rounded which provides consistent contact between the rotor and pad while also sweeping away gas and dust; the result is a high performance rotor that enables harder, more precise braking with temperatures lowered by as much as 180 degrees. To ensure long life and to reduce rust, Sector 27 Rotors are plated with silver zinc. These elements are combined with a very precise manufacturing process ensuring each and every rotor fits perfectly and is balanced to stringent specifications.
Hawk Performance offers the Sector 27 Rotors for a multitude of vehicles including cars, trucks and SUVs and in a number of configurations; sold in pairs for the front or the rear, as a rotor and pad combo kit with 2 rotors accompanied by either Hawk's popular HPS, new 5.0 or LTS (Light Truck SUV) brake pads for the front or rear. Take your street performance and stopping power to a new level with our Race Proven Street Legal, Sector 27 rotors.
*Key Features*
* Highlights of the new Sector 27 Brake Rotors
* Greatly Improved Braking Performance
* Lowered Brake Temperatures
* Precise and Predictable Control
* Consistent Pedal Feel
* Long Life
---
Share this Product
---
More from this collection